Lansing, Leavenworth, Leavenworth County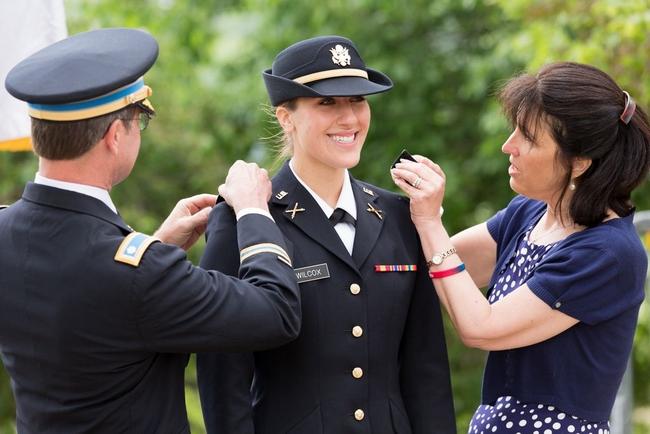 The University of Kansas ROTC has commissioned its first female field artillery officer, and it's a name some local residents may recognize.
Madeline Wilcox, of Leavenworth, was commissioned in late May, following Pentagon orders last year to open combat-arms branches to women across all military services.
"Cadet Wilcox's selection to field artillery was a surprise to her and us, but as the Army moves to put females into combat arms, Cadet Wilcox has great potential to do well," said Lt. Col. Storm Reynolds, military science professor, in a news release.
Wilcox joined Army ROTC in 2010, during the spring semester of her freshman year at KU. She has graduated from KU with a political science degree.
"I am very excited for the start of my Army career," she said in the release. "Being branched in a combat arms branch, especially with being the first female to do so from KU, is something I'm proud of.
"But even more so, I think this shows a very good trend towards where the Army is heading in the further integration of women.
"
Wilcox graduated as a distinguished military graduate, a distinction for being in the top 20 percent of graduating ROTC cadets across 273 programs in the U.S.
She was also part of roughly 1,000 cadets to earn an overall excellent grade during 2013's Leadership Development and Assessment Course in Fort Lewis, Wash.
U.S. Army combat arms branches include infantry, armor, field artillery and air defense artillery. Field artillery and air defense artillery are the two combat branches open to female officers.
Following graduation and commissioning, Wilcox is slated to attend the Field Artillery Basic Officer's Leadership Course, a five-month follow-up on training for new lieutenants in Fort Sill, Okla.